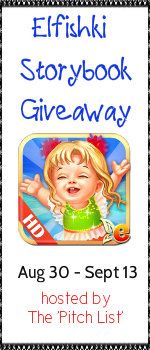 Elfishki Storybook:
The Performance in the Fountain
This is about the Elfishki Storybook for the iPad. It is an interactive program designed for children aged 6-9. The bright colors and hands-on capabilities make it a favorite with the children the first time they use it.
As part of the Pitch List reviewers, I downloaded The Performance in the Fountain on my boyfriend's iPad. It was easy to install. I opened it and saw the opening page.
The books are in English and Russian. I love that there is a button to have it read to your child. Or your child can read it himself.
As your child  explores this book, they will be attracted to the bright colors, the wonderful illustrations and the story itself. With the interactive pages, your child can entertain themselves in a hands-on manner and learn at the same time. There is a game they can play over and over again and it has two skill levels.
Elfishki are little fairy tale creatures who live on the beautiful Rainbow Island in the middle of the Sparkling Sea.
Rinka, an Elfishki, preferred magic tricks over her school work. She tried performing every day. The children liked it but not the teachers. Rinka's mom was being contacted a lot to make Rinka stop.
During school break Rinka's mother needed someone to watch Rinka. Only a kind hearted cat, Mr. Thomas, who lived in Elfishtown agreed to watch her.
Rinka had never been to Elfishtown and grew bored just swimming in the town fountain. She was used to swimming in the Sparkling Sea. Even Mr. Thomas wouldn't join her because cats don't like water!
Read more about Rinka and her quest for entertainment. This story is delightful, colorful, interactive and fun.
You can also preview it on
Youtube
.
At the end of the story, it gives you information on what the goals were when creating this series. It has information on more books for children and adults. Very clever development.
I have two of the free books on my iPhone. They are very handy to have when I have to entertain my grandchildren and want a story that is fun and interactive. These are the ones I have:
Also check out their back to school sale going on now.
Hop to these other Pitch List sites to view the reviews!!!
No purchase is necessary to enter. Void where prohibited by law. The odds of winning are based on the number of entries received. This promotion is no way sponsored, endorsed or administered by, or associated with, Facebook and is Facebook-compliant. Winners will be notified by email from a 'Pitch List ' Blog. Winners will have 72 hours to respond or risk forfeiting their prize. Prize fulfillment is the sole responsibility of the sponsor. This blogs participating may not be held liable for Sponsors who do not fulfill prize shipments.
I received a download of this book for review. The opinions and photos are my own.