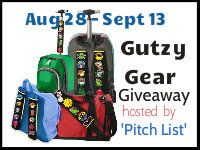 Gutzy Gear Review and Giveaway
Back to school is upon us. It sure seemed to come quickly. And the thing I always loved about school starting was getting the new school supplies. I loved it all. The pencils, sharpeners, paper and picking out that special binder.
Well, things have changed since my school days and backpacks are now a status symbol. Everyone wants a cool one. Gutzy Gear has figured out a way to let your child have their favorite backpack and decorate it in an appropriate way. 
Gutzy Gear gives kids the tools they need to express themselves in a fun and easy way.
My grandchildren and I received Gutzy Gear products to review. They even hosted a back to school party for the children and their friends. There was enough for all the children to be able to decorate their backpacks the way they wanted. They had a blast! The instructions were easy and with help, even the younger children got to join in on the fun.
These kits include gutzy strap covers that can fit over your backpack straps, guitar straps, seat belt straps or whatever. You attach them by the Velcro on the back of them. This makes them easy to switch out when the mood suits you. The variety of patches was great and they all got to choose their favorites. My oldest grandson who is almost 16 was already looking at the website to see what other Gutzies he could order.
As you can see, the party was quite a success. The children all enjoyed it. It was even simple enough for Jackson at age 3 to participate. One of the girls mentioned that they would make her backpack more comfortable when she carried her heavy books. And the mother hosting this party said she was going to put one on her seat belt in the car.
Visit these other Pitch List bloggers and read their reviews.
No purchase is necessary to enter. Void where prohibited by law. The odds of winning are based on the number of entries received. This promotion is no way sponsored, endorsed or administered by, or associated with, Facebook and is Facebook-compliant. Winners will be notified by email from a 'Pitch List ' Blog. Winners will have 72 hours to respond or risk forfeiting their prize. Prize fulfillment is the sole responsibility of the sponsor. This blogs participating may not be held liable for Sponsors who do not fulfill prize shipments.