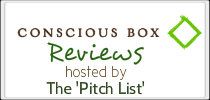 I had been on vacation and before I returned home my conscious box arrived. I had never heard of it before now and this was my chance to review it.  I was intrigued. More intrigued was my daughter who was holding down the fort at my house.


I told her to open it and check it out. She loved it! She said that one thing I needed to mention was how good it smelled when she opened it. She said it was amazing!  It smelled like peppermint. She immediately found the can of peppermints that was part of the monthly box. She now wants to know how to get her own!
I explained that it was something that she could receive monthly. Or gift it to someone. She loved the idea. I think she is a new customer already and I haven't even finished my review of the box myself. So obviously it sells itself.
I never tried aromatherapy products before.  I received an aromatherapy deck. It provides a guide to mixing oils and the benefits from these mixtures.  I am eager to learn more about the ideas this deck provides.  I am definitely a beginner and look forward to unlocking the mysteries of the oils and combinations they suggest. It came with sweet orange oil. Yum!
I loved the tea bags that were included.  Tea parties are a passion of mine.  Sweetener samples were included and I always wanted to try some of these.
Enzyme cleaners for floors.  I even received some eye shadow.  A large variety of items. Environmentally safe.  It was a treasure chest of samples and items that I would probably have never tried on my own.
The box is different each month so you don't have to be afraid to order for more than one month.  I received the product quickly and look forward to receiving another one to compare it to.  And by the way, my daughters say that the squeezable applesauce is really good.
Next month will be the August 'Back to School' Conscious Box!   It's going to have delicious, nutritious snacks, some  great daily alternatives, and tons of other really fun stuff that everyone will enjoy, making it an AWESOME gift for all students, including K-12 and college.  And yes, it's great for students
and
non students alike, so you can gift it to anyone!  I am making my list now to send to. Just remember, you've got to order before the 6th of the month! This is the only legitimately healthy care package we've seen this year, and they're going fast!
I am looking forward to the one for next month. Please check back and I will share the next Conscious Box surprise box with you. See you soon.
Please check out their sites.
https://www.facebook.com/consciousbox
https://twitter.com/ConsciousBox
http://pinterest.com/consciousbox
I received a Conscious Box to review. I received no other payment of any kind. All opinions in my review are my own. I write an honest review according to my views.