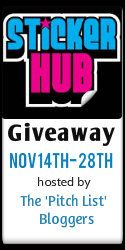 Sticker Hub Review and Giveaway
Sticker Hub is an amazing website. They have everything. I was so thrilled to be able to review a product from there.
I chose the trees and branches with the green leaves. This is a removable wall graphic. I love nature and the thought of a beautiful branch in my room was just a bright spot. I received it and loved it.
It was so easy to put up and it added so much to my walls. These are durable and fun. I like that if I made a mistake and put it in the wrong place, I can easily move it. I change my mind all the time on decorating so this will be an addition to my furnishings. I can move them into another room.
My next step will be to add some photos and use this as a family tree. I have so many ideas and the possiblities are endless.
Some lucky winner will receive a kit of their choice. Believe me, the choices go on and on. But please enter my giveaway below. Check out the other great sites and see their choices and reviews.
I received a wall design to review. I only recommend products I like. All opinions are my own.