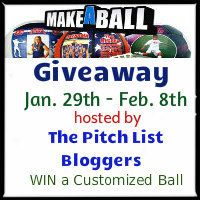 As a mother and grandmother, I am always looking for great gifts for the boys. For me, they are always harder to buy for than the girls. The opportunity to review this ball was perfect for me. I was able to get a wonderful personalized gift for my grandson's birthday.
The Make-a-Ball website has all the tools you need to design a ball for yourself. They have footballs, soccer balls, baseballs and others but I received the baseball. I followed the instructions and was able to personalize the ball just for Joey. It has the templates along with an uploader for your photos. The flaps on the ball are printed and the ball is actually sewn together when you order it. All of the sports balls are constructed of high-gloss synthetic leather. Basketballs and footballs also have synthetic pebble leather on panels that do not contain photos. If you notice in my photos, you can see the quality work. The stitching is perfect and we definitely want it to be perfect for our perfect child. Love this boy!!!
These balls can be used for play, but they suggest that they be used as more of a collectors' item to preserve the quality and integrity of the products and photos. The high-gloss synthetic leather can make products more slippery than usual. There are even display cases made specifically for each ball that can be purchased to protect this priceless gift.
Check out Make-A-Ball on Facebook, Twitter and Pinterest.
The price of the baseball Make-a-Ball is $25 but you have the opportunity to win one of 23 balls to give to your own little slugger. Enter the rafflecopter below and good luck!
I received a baseball for my review. All opinions and photos are my own.